Recently, microlinks are becoming a more and more popular extension method for black hair. However, many still do not know what Microlink extensions are. Trading hair has specialized in exporting and wholesaling human hair extensions for over 12 years. We are familiar with microlinks. Here in this post, we will share with you some basics about microlinks. We hope that this can be helpful to you when you buy Micro-link hair extensions.
What Are Microlink Extensions?
Microlink extensions (also known as micro rings and microbeads) come with small silicone beads or tubes on top which are used to attach hair extensions. This extension method requires no glue, no adhesive, and no heat but some special tools, such as a hair plier, etc. That's also why Microlinks can't be DIYed. But it's still a relatively safe and healthy method to add length and volume to natural hair.
Pros And Cons Of Microlink Extensions
Pros:
Seamless and undetectable: The beads and tubes on the top of microlinks are very small and are dyed into the color of hair extensions, which are undetectable after being installed. And microlinks are attached to your natural hair strand by strand so that the extensions blend perfectly with your hair. What's more, with microlinks, you don't have to braid full head cornrows, which results in an undetectable flatter look.
Airy and lightweight: Microlink extensions are applied to relaxed natural hair. You don't need to braid your hair or wear a cap, which results in a breathable and comfortable wearing experience.
No glue or chemicals are needed: The installation and removal of microlink extensions require no glue, no adhesive, no chemicals, and no heat, which makes it a safe and healthy way to add length and volume to natural hair. And it's also a suitable option for those who suffer from a sensitive scalp.
Even weight distribution: We know that no matter which type of extension you opt for, they do bring some pressure and strain to the scalp and natural hair. And suffering from constant pressure can lead to hair damage. Unlike other hair extensions, micro links are applied strand by strand. Although this installation method takes more patience and energy, the strain is distributed equally, which causes less harm to natural hair and scalp. And you won't feel microlink tight, they are a low-tension method to add hair length.
Longer-lasting: With tape-ins, you may need to go back to the salon to make some upkeep and reinstall every 4-6 weeks. Microlinks can stay on the head a bit longer than tape-ins. We recommend you retighten or reposition the microlinks every 8-12 weeks.
Reusable: If your microlinks are of high quality, with proper maintenance, they should last for more than one year. And microlink extensions can be reused for about 4-5 applications.
Easy access to the scalp and natural hair: Microlinks are attached to totally relaxed natural hair, so you have easy access to your natural hair and scalp to perform daily care.
Cons:
The installation is not an easy task: Unlike tape-ins or clip-ins, microlinks are attached to natural hair strand by strand. There are so many small strands you need to apply. The installation process of microlinks takes much more time and requires more patience. It is a more challenging job than other extensions. The whole installation process typically takes about 3-4 hours. And the time varies based on how many extensions need to be applied.
Cost more on installation and upkeep: Since the process of installing microlinks requires more time and patience, it costs more. The charge for installing microlinks typically ranges from $300-$500 and varies based on your location and the stylist. And the ongoing maintenance every 2-3 months may cost $100-$200.
Some things you need to know before investing in microlink extensions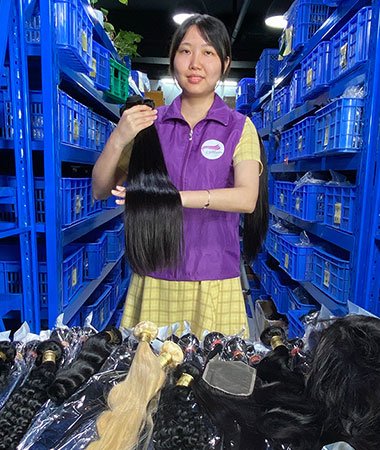 Tip 1: Make sure the hair extensions are crafted of 100% human hair (Cuticle-aligned human hair). Synthetic hair or mixing hair is easy to get tangled after several times of washing.
Tip 2: Make sure the extensions you invest in have thick and healthy ends. Thin ends are the result that some unreliable hair vendors mix some short hairs in long hair extensions to sell seconds at the best quality prices.
Tip 3: Make sure the shade of your extensions is uniform. The most natural-looking hair shade for black women should be 1b.
Tip 4: Make sure to buy extensions that look similar to your own texture.
Where To Buy Micro Link Extensions?
Not all hair vendors sell Microlink extensions, but TradingHair does, and at a competitive price, usually 30%-50% cheaper than other hair vendors. Click to explore our latest collection of affordable human hair extensions. No matter if you are searching for hair extensions to match 4C hair or 3C hair, we have got you covered. If you'd like to receive hair samples and more discounts, you're welcome to contact our consultants directly.
TradingHair is a reputable hair vendor that offers high-quality human hair and boosts your hair business.
Related Posts:
What is tape in hair extension and how to maintain it?