Tape hair extensions are becoming more and more popular among black women these days. It's such an easy, safe, and quick way to help women to lengthen and plump their hair and boost their charm within a few minutes. They are undetectable and versatile in styling because they can lay very flat on the head and blend well with all hair textures. Many celebrities and beauty lovers show how they slay this gorgeous extension on their Youtube channels. And you are considering whether you should opt for tape-in extensions but looking for advice on applying, removing, and caring for them? 
Hey, we have got you. Scroll down to check out tape hair extension tips and tricks!
Q: Are Tape-In Hair Extensions Bad For Your Hair?
A: No. Tape hair extensions are the safest and quickest way to add length. Some may think the adhesive of tape hair extensions is harmful to natural hair. But that is a myth. The sticky tape of tape hair extensions is made with medical-grade material that is 100% safe for your hair and scalp. Tape-ins never harm natural hair but improper installation and maintenance can lead to this issue.
Q: Do Tape-Ins Damage Hair?
A: Actually, if improperly installed and maintained, all types of hair extensions can damage your hair. You should let a professional handle the tape-in process and make sure to return regularly to the salon for maintenance.
Q: Are Tape Hair Extensions Suitable For Everyone?
A: If your natural hair is oily, if you often sweat a lot, or if your hair is extremely short, you may not be a suitable candidate for tape hair extensions. 
Q: How Many Packs Of Tape Hair Extensions Do You Need?
A: We recommend you purchase 2 packs (80 pieces, about 200 grams) to achieve a full natural & glam hair look.
Q: How Long Do Tape-In Hair Extensions Last?
A: If your tape hair extensions are made of 100% Remy hair, they can last for more than one year with proper care. If you are wondering how long you can keep tape-in extensions on your head, it is recommended that you do not leave the extensions on your head for longer than two months.
Q: Can You Work Out With Tape-In Extensions?
A: Sure. We suggest you keep your hair in a braid to minimize getting tangled when you are working out. Wearing a sports headband should also be a wise decision.
Q: Can You Shower With Tape-In Extensions?
A: Aside from the first 48 hours after installation, you can take a shower with your extensions as you desire. If it's necessary to take a shower during these 48 hours, wear a shower cap to protect your extensions from slide-off. What's more, you should reduce the frequency of washing hair after hair extension. Maximize 2-3 times per week, or you can use dry shampoo as an alternative.
Q: Can You Swim With Tape Hair Extensions?
A: Actually, we highly suggest you not do so. The chlorine and salt from the pool or sea may damage your extensions and lead to tangles. If it's necessary for you to go swimming with tape-in extensions on, you should wear a swimming cap to protect your hair and make sure you deep clean and condition it afterward.
Q: Can You Dye Tape In Hair Extensions?
A: All hair extensions that are made of 100% human hair can be dyed. So make sure the tape-in extensions you plan to buy are made of 100% human hair. But just like coloring natural hair, dyeing tape-hair extensions can also harm the extensions. So avoid doing so. If necessary, let a professional dye your hair. Or you can also choose to buy colored hair extensions from the hair vendor directly.
Q: How To Protect Tape In Extensions When Sleeping?
A: We highly recommend you braid your hair into a plait and wrap your hair with a soft silk scarf to minimize getting tangled.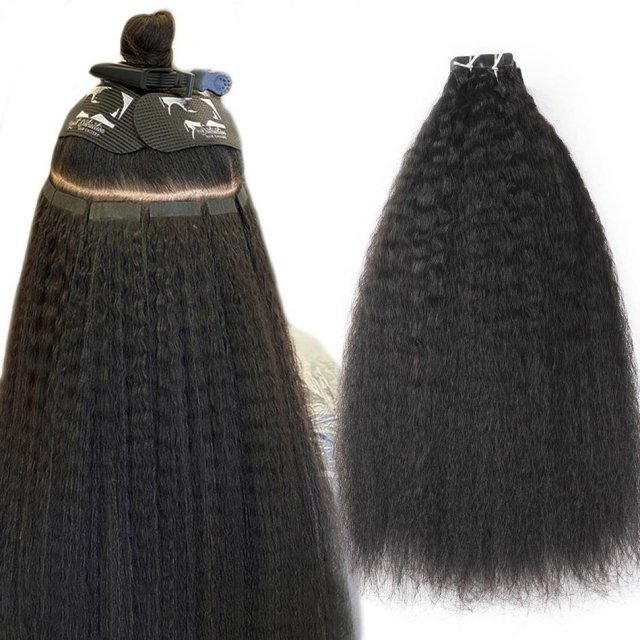 Q: Do Tape In Hair Extensions Fall Out Easily?
A: Typically, tape hair extensions never fall out in public unless you have applied oil-based or alcohol-based products on the roots before. Tape-in extensions are firmly attached to your natural hair and rarely fall out on their own unreasonably with proper installation and maintenance.
Q: How To Ponytail With Tape In Extensions?
A: Tape-ins allow you to slay high-ponytail or top bun styles with proper installation. The secret to ensuring the tapes are completely undetectable is to leave out the hair around your hairline and edges. So if the high ponytail is your next hairstyle, let your hairdresser know in advance!
Q: How To Remove Tape In Hair Extensions?
A: Separate the bonds of the tape hair and use a suitable brush to detangle your hair extensions. Your leave-out hair should be parted up to expose the tape. Apply some glue remover to the tape and sit for a while to loosen the sticky tape. If you feel the tape loosening, gently peel it away. If you feel it is still sticky, apply more remover and let it sit for a while. Try to peel it away when it gets loosened. Repeat to do so, until you have removed all the tape-in extensions on your head.
We hope that this post can be helpful for you. If you still have further questions about tape hair extensions, feel free to reach our consultants online!
Related Posts:
How To Install And Remove Microlinks?