The quick weave is now a more and more popular option for daily beauty. Since plenty of benefits it brings, such as natural appearance, easy-to-manage, adorable price, and so on.
In this post, we are gonna make a simple initial introduction about a quick weave and its pros and cons detailly.
What is a quick weave?
A quick weave is a protective method to add volume and length to your hair look via bonding hair weft to the wig cap. You can choose to go ahead with some leave out or no leave out as you like. It's versatile, easier to operate and takes less time than a sew-in.
Pros and cons of quick weave
Before deciding on rocking a quick weave or not, let's consider the advantages and disadvantages of the quick weave.
Pros:
Protective style: Some may be concerned if quick weave will damage your natural hair. Actually, a quick weave will not damage your natural hair or your scalp with proper installation. Besides, the hair weaves are bonded to the wig cap instead of your natural hair. It is even available to protect your natural hair and scalp because it brings minimal tensions to your natural hair and you don't need to apply any glue directly to your natural hair while installing a quick weave.
Time-saving: As its name implies, it takes less time to apply a quick weave than sew-in. Typically, a full head quick weave can be finished within 1-1.5 hours. Besides, it takes lower maintenance, too. It's an ideal option for busy girls. 
Affordable price: Commonly, a quick weave is cheaper than a sew-in in the salon. And since the installation of quick weave is pretty easy and can be done at home by yourself after going through some tutorials and guidelines. A quick weave is no doubt a coin-saving option.
Natural appearance: Rocking a human hair quick weave with an invisible lace frontal can also provide you with a natural hairline and realistic illusion as if the hair strands are growing from your scalp. Besides, a quick weave allows you to leave out some natural hair to make a natural appearance. It's versatile, you can choose to rock a middle part, side part, or deeper side part as you desired. Or you can choose to leave out some hair in the front so that you can lay down tidy and lovely baby hair to retouch your face shape.
Versatile in styling: A human hair quick weave allows you to restyle most hair look you desired. Human hair weave allows you to perm, dye, bleach as you like.
Cons:
Temporary: Because the bonding glue for quick weave wears off quickly. Typically, a quick weave can be last on one's head for about 4-5 weeks with proper care. It's not as long-term as the sew-in. If you are planning for lengthy wear, it's more reasonable to sit for the sew-in rather than a quick weave.
Risk of hair loss: A quick weave may damage your scalp or lead to hair loss if the glue or adhesive comes into your natural hair directly while installation. So it's necessary to avoid allowing any glue to contact your scalp and your natural hair.
Limited occasions: To avoid some unnecessary embarrassment, we suggest you don't go swimming or go outside on a rainy day with an umbrella with a quick weave on.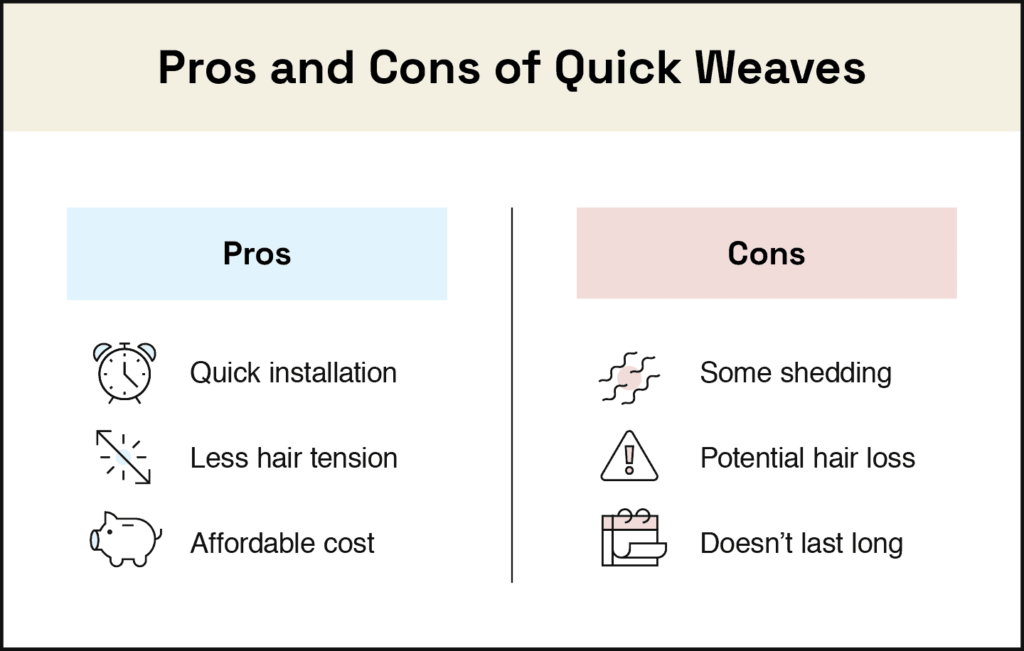 We hope that this post can be helpful while you are tangling picking a sew-in or a quick weave. Both quick weave and sew-in provide a natural appearance. If you are searching for a time-saving temporary hairstyle, a quick weave should be an affordable option. If you are planning for a more durable and long-term hair look, a sew-in is an ideal option.
Discovery affordable human hair weaves at China Hair Vendor. Explore luxury human hair bundles that are made of 100% human hair. China Hair Vendor, an experienced wholesale human hair bundles and hair extension supplier, has earned a great number of good reputation from our global customers. Based on 11 years of accumulated experience & expertise, we offer our clients a one-stop service that includes everything from hair consultation to brand packaging. We are available to help you to start and boost your hair business.
Related Read:
How To Put On A Lace Front Wig?
How Long Can You Keep a Lace Front Wig On?